Meet the new girl on the SDDBS block. This is Lexi and she is a hugely overweight girl, we've not weighed her yet but she is very large so it will be a challenge to get her fit and happy. Despite this she is a very happy loving girl that is

good with other dogs, cats and kids. She's been used for breeding and sadly no longer wanted. She's got an ear infection at the moment and her skin is not great but we think it's all related to just being very overweight and unhealthy. We will soon have her looking better though.
or
Latest news just in.
Wonderful news for Bo, she has now found a home and won't be going far at all as her foster home has fallen in love with her and can't bare to part with her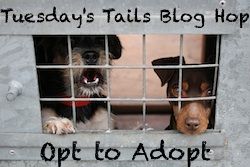 This is the Blog Hop that features shelter animals. Find a cat, dog, rabbit, etc. at your local animal shelter or rescue and feature them on this Blog Hop! Come join the fun and help a furry friend find a forever home! And while you're at it, don't forget to visit the other blogs and share their doggies, cats, rabbits, and all the other animals that need forever homes on your social media sites. Please spread the word!